Local Business $aver™ is a full-service printing, graphics, design, company that specializes in direct mail advertising. We are experts at postcard and direct mail marketing that generates results. By using Local Business $aver™, your offer will be seen on the most gigantic mini-billboard right in your prospects home, using the United States Postal Service, which will dwarf every other piece of mail arriving in your target audiences mailboxes. The power of the Local Business $aver™ full-color gigantic mini-billboard that arrives in the mail assures your offer will actually be seen and, more often than not, retained versus being thrown out.
Your offer will be prominently displayed on a postcard that will look like someone stuck a small billboard in their mailbox. The size is an enormous 12″ x 15″. It is very unlikely the recipient has ever received a anything in the mail of that size in the past, which makes Local Business $aver™ even more exclusive and our offers are coveted by recipients. In all of our test markets, they actually look forward to receiving them each month.
Your giant mini-billboard offer has an infinite shelf life, allowing the recipient to store it for viewing at a more convenient time, should they wish.
And receiving the Local Business $aver™ postcard is a personal and direct experience that doesn't require any clicking, typing, opting-in, subscribing, or signing up. And each mini-billboard campaign is packed full of valuable offers on everyday services, separating it from they typical junk mail that usually gets tossed out immediately.
Find out if a Local Business $aver™ is near your business in the United States. Call (888) 497-1470
Corporate Location:
8350 Archibald Avenue, Suite #233
Rancho Cucamonga, California 91730-3672
(909) 726-7252
(888) 497-1470
(909) 493-1934 (fax)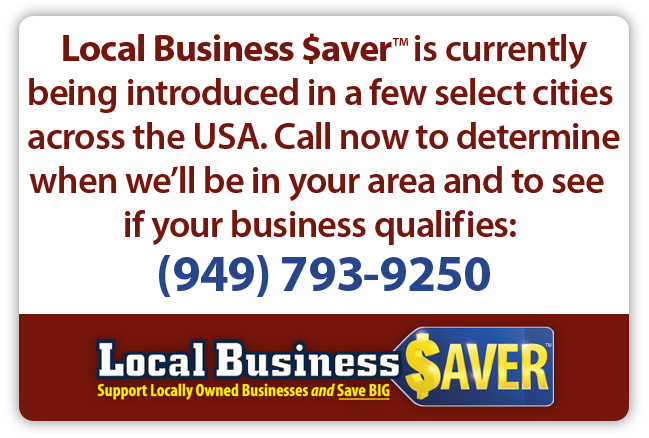 © 2010 – 2017 All Rights Reserved. Local Business $aver a Prospector Capital Partners Inc. Company.